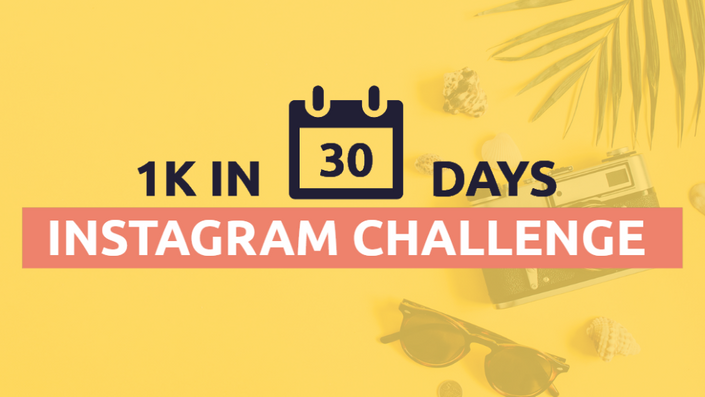 1K in 30 Days Instagram Challenge
The Simple Step-by-Step Process for Gaining 1,000 Instagram Followers in 1 Month
A foolproof framework for growing your Instagram audience - FAST. 🏃
Sign up and gain access to my exclusive training and discover how to...
Attract your next 1,000 targeted followers with a handful of simple strategies
Get unstuck, and stop wasting time with outdated strategies...

I only teach strategies

that work
Grow a HUGE Instagram following in months instead of years -- even if you're starting from zero.
In this course you'll learn my foolproof formula for growing an Instagram account to 1,000 followers in the next 30 days.
Join over 700 people who have taken the challenge to ultimately get their Instagram off on the right foot, and start attracting followers.
Does Any of This Sound Familiar?

😨 You've been stuck at the 200 followers for months.
You're posting daily, but your follower count often goes up for a few days, then goes back down again -- no matter what you do.
🤯 You see other people growing from 1,000 to 10,000 in a matter of months, and you just don't get it.
Comparing yourself to your competitors makes Instagram feel like one big inadequacy machine.

😓 You have no idea what you're doing with your feed, or have no clue what to post.
You want to post awesome content but you never leave the house, sit around in yoga pants, and don't have anything interesting to post about.

😬 You still get excited every time your post gets over 50 likes.
You've considered asking your mom, husband, brother, and BFF for "pity" likes in order to get you into the sweet and glorious land of triple digits.

😻 You regularly post your photos (and everyone who sees it loves your work), but even your own husband/wife doesn't see your posts on Instagram.
What's the deal? Hashtags? The Algorithm? You have no clue.

If you can relate to ANY of these feelings, you're in the right place.
Introducing:
The 1K in 30 Days Instagram Challenge
---
The Simple Step-by-Step Process to Gaining 1,000 Instagram Followers in 1 Month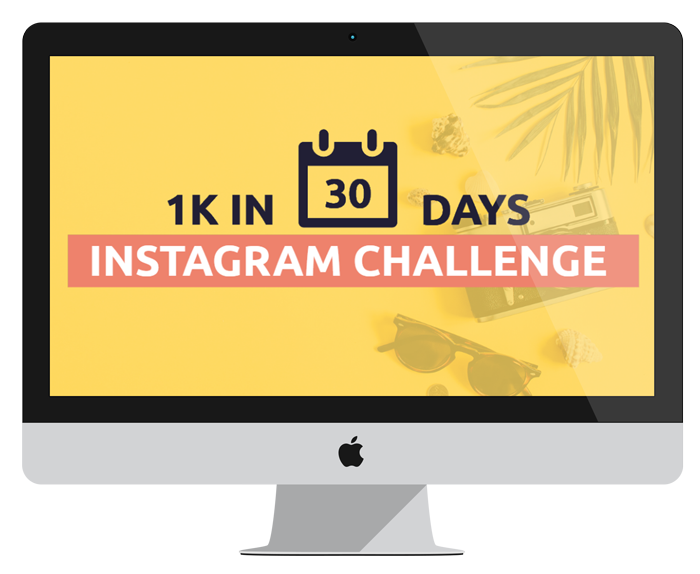 🤓 What You'll Learn During the Challenge
---
How to optimize your Instagram account to make sure visitors hit that follow button.
Where to find your ideal followers on Instagram, and what to do to grab their attention to maximize your chances of turning them into YOUR followers.
How to expand your reach and gain exposure to new audience with hashtags, plus how to pick the right ones for your specific account.
My 3 best strategies for growing your Instagram consistently and authentically -- by up to hundreds per day! This is a big reason why I'm able to add thousands of new followers to my account every month.
How to work with peers and influencers for those extra BIG boosts in growth and exposure. This will help you in the final push to pass that 1k threshold!
This course was created for...

Bloggers and Personal Brands
Including lifestyle bloggers, social media influencers, aspiring public figures.
• Boost your traffic to your blog
• Become an Instagram influencers by increasing your exposure & authority
Creative Entrepreneurs
Including wedding professionals, photographers, and designers.
• Connect with your audience and book clients who already love what you do
• Grow your email list with tons of new potential clients
Crafters, Artists, and Online Shop Owners
Including Etsy store owners, handmade artisans, e-commerce shop owners, brick-and mortar business owners.
• Gain brand recognition and build up a loyal fan-base of enthusiastic followers who promote you to all their friends
Masterclass Lessons 👩‍🏫
---
Masterclass #1: Making an Account Worth Following + Defining Your Target Audience
Masterclass #2: Engagement Growth Strategies + Hashtags
Masterclass #3: Working with Other Accounts to Grow Your Own
Finding Your Target Audience Workbook
Use this workbook to record your audience demographics, and where you can find them on Instagram. This greatly simplifies the process for you.
My 1K Instagram Strategy Checklist
My master checklist of all the steps to remember for growing your Instagram following, fast. Keep on track to reaching your goals with this handy reminder checklist.
👑 This Course is PACKED With Value 💎
---
3 Video Masterclass Lessons & Step-by-Step Tutorials [$200 value]
Workbooks, Cheat Sheets, & Checklists to keep you on track to reach your goals [$100 value]
All the bonus content to take your Instagram game to the next level [$100 value]
Lifetime Access & Updates [Priceless]
TOTAL VALUE = $400
YOUR PRICE TODAY = $47
Your Instructor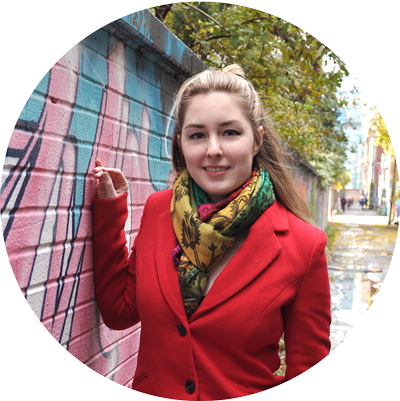 Hey there!
My name is Brie – a Canadian gal from Toronto, with a green thumb and an obsessive love of cats.
And when I'm not lost amidst the greenery that is my balcony garden, coming up with ridiculous pet names for my cat while speaking to him in a horrendously high pitched voice, or reading as many pages of a book as I can before I inevitably fall asleep after 20 minutes…
...I'm running GoRattleTheStars.com, a social media marketing blog that has helped thousands of entrepreneurs, bloggers, and influencers successfully grow their businesses by harnessing the power of Instagram.
I've also grown my two businesses from 0 to over 110,000+ Instagram followers combined in less than a year, just to prove that I could do this business thing after failing horribly to launch my art career.
With Instagram Launchpad, my goal is to help you grow your audience, gain the recognition you deserve, and increase your profits online – all by becoming a social media BOSS.
I don't believe in using "growth hacks" or super sleazy shortcut methods that involve putting in the least amount of work possible for questionable results.
I am all about foundational tried-and-true methods that will help you direct real followers to your Instagram account, so you can wow them with your talent, form meaningful relationships, and build the life you've always wanted.
Course Curriculum
Start Here!
Available in days
days after you enroll
Lesson #1
Available in days
days after you enroll
Lesson #2
Available in days
days after you enroll
Frequently Asked Questions
How is the course delivered?
The course consists of several video masterclass lessons, supplemented by worksheets, cheat sheets, and spreadsheet templates. You gain full access to all course content within our school once you've registered. Support and questions are addressed via email -- you'll have direct access to me for any problems or questions you may have.
How long will it take for me to see results?
In order to go through the course content and start implementing the strategies you learn, I would estimate it to take you just a few days to start gaining followers. Consistency is key with Instagram, so if you're putting my methods into action on the daily, it's possible to reach 1,000 followers in as little as 2-3 weeks.
Can't I just find this information on the web for free?
Most of the information about Instagram I find on the internet is either outdated, incomplete, or both. Plus I know from experience that it is incredibly frustrating trying to piece together methods and strategies you found from different sources. You'll save yourself hundreds of hours by enrolling in this course, because the methods I teach all work together to form an effective, cohesive, and COMPLETE Instagram strategy. I created this course because it is EXACTLY what I needed when I first started out.
How long will I have access to this course?
Though the course is meant to be consumed over approximately one week, it is completely self-paced - you decide when you start and when you finish. You get LIFETIME access to all course material, as long as the course is in existence. This includes all futures updates. This is important because social media is a rapidly changing landscape, and what methods work today may not be viable tomorrow. I want to help you stay on top of Instagram with the best strategies, no matter how many changes Instagram makes.
What is your refund policy?
We have a 30 day refund policy in place. If you've made an honest effort to go through the course, watched the videos, filled out the worksheets, and didn't see results, you can send me an email within 30 days of purchase to request a refund. As long as you provide evidence that you've done the work and it didn't get results for you I'd be happy to issue you a full refund. We do NOT offer refunds if you simply changed your mind or already know all of the content. There is ample description of the course content on this page and it is up to you to determine whether the course will be of benefit to you.
So What Are You Waiting For?
---
If you're ready to stop struggling, get unstuck, and gain your next 1,000 Instagram followers in 30 days — then the 1K in 30 Days Instagram Challenge is a no-brainer! 🤓