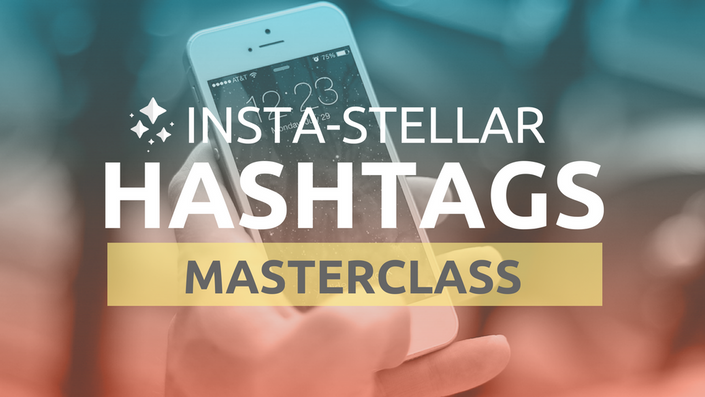 Insta-Stellar Hashtags Masterclass
Find the PERFECT hashtags and grow your Instagram on autopilot.
Whether you're new to Instagram or an old hack, you probably know that hashtags are kind of a big deal...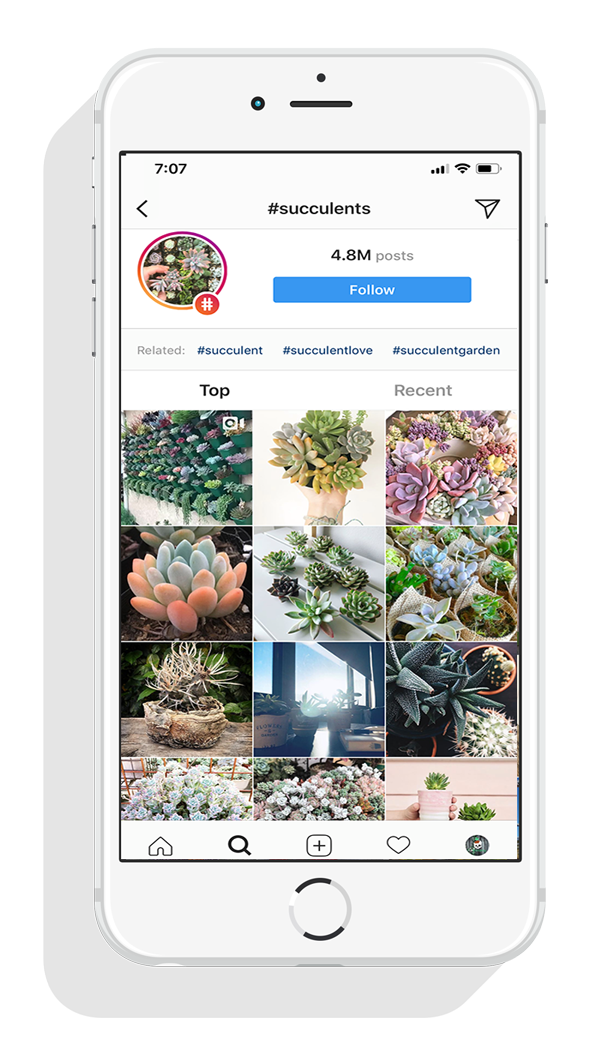 ...But figuring out how to use hashtags to grow your Instagram can be both confusing and time consuming.
Maybe you've been Instagramming for a while and haven't seen the boost in engagement/followers/traffic that you've been hoping for...
Or maybe you're just getting into the Instagram game, and you just don't know where to start…
My name is Brie, and I've successfully grown two Instagram accounts to a combined total of over 110,000 followers in under a year...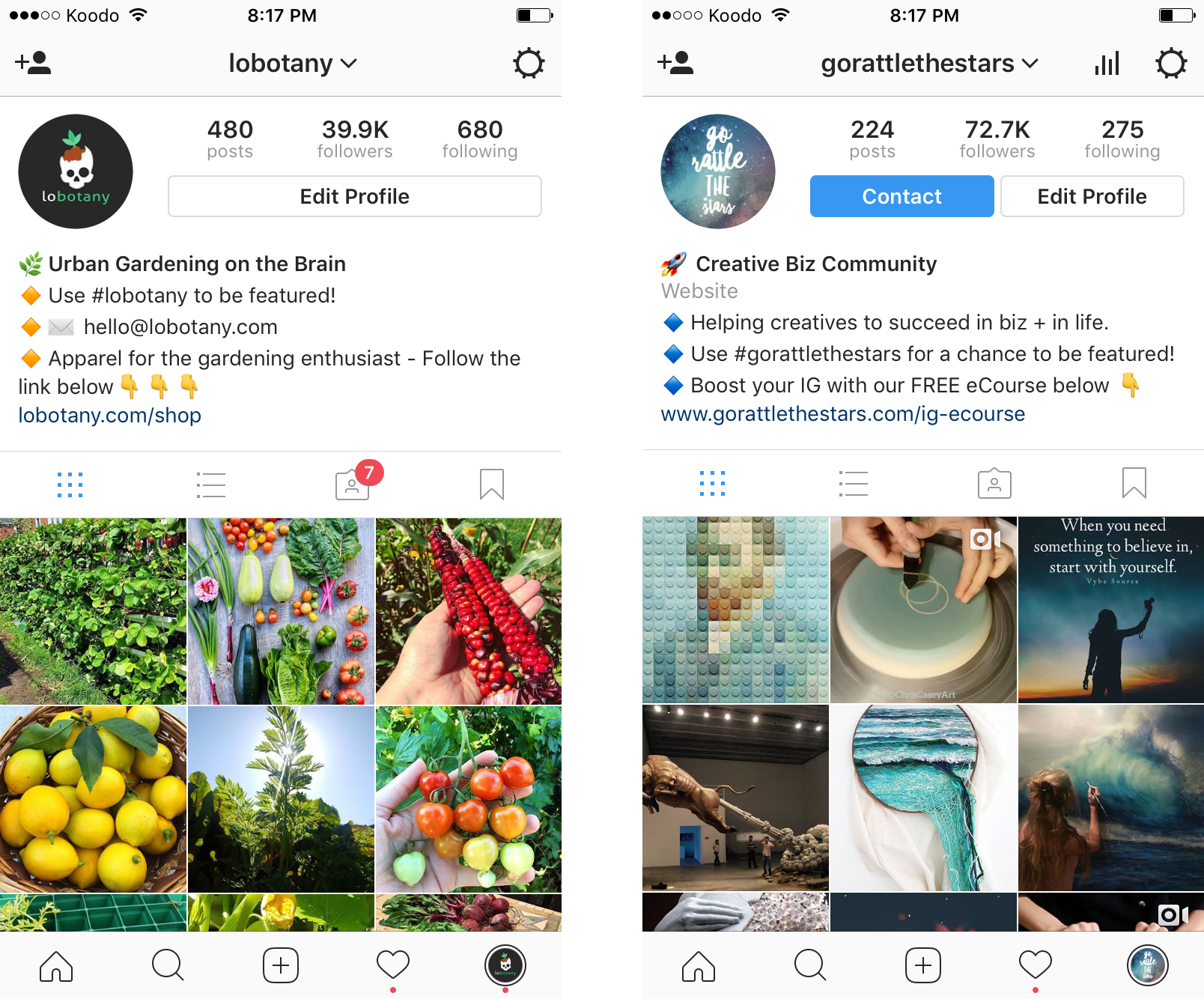 I've grown several Instagram accounts in several different niches, and hashtags were KEY in getting my content in front of different audiences.
I used hashtags to get noticed and gain followers who were interested in:
Plants & gardening

Arts & creative business

Food & desserts
Because of the exposure I gained from using the RIGHT hashtags for each niche, I was able to grow my Instagram accounts rapidly and consistently: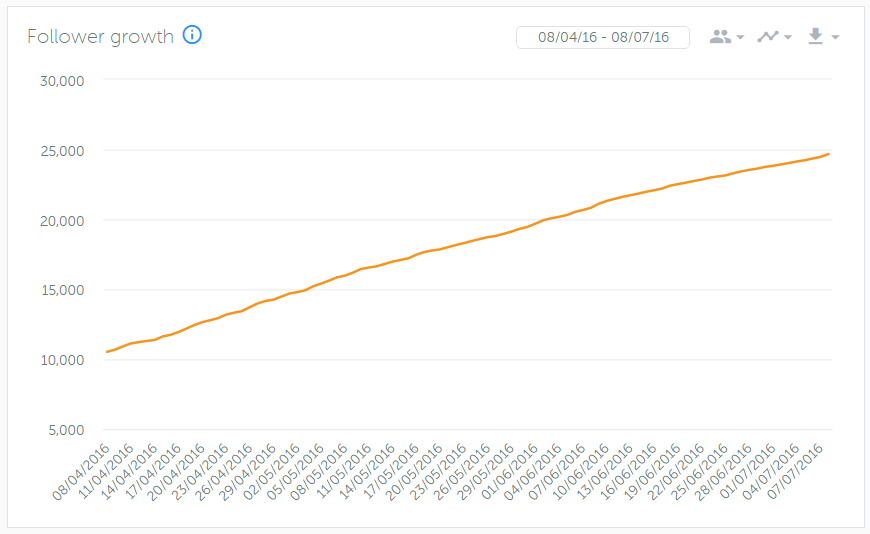 Rapid & consistent growth for my gardening Instagram @lobotany.
Let me show you why hashtags are ESSENTIAL if you want to reach your target audience on Instagram.
The images below are two posts from the same account only a few days apart -- one posted WITH hashtags and one WITHOUT.
See for yourself: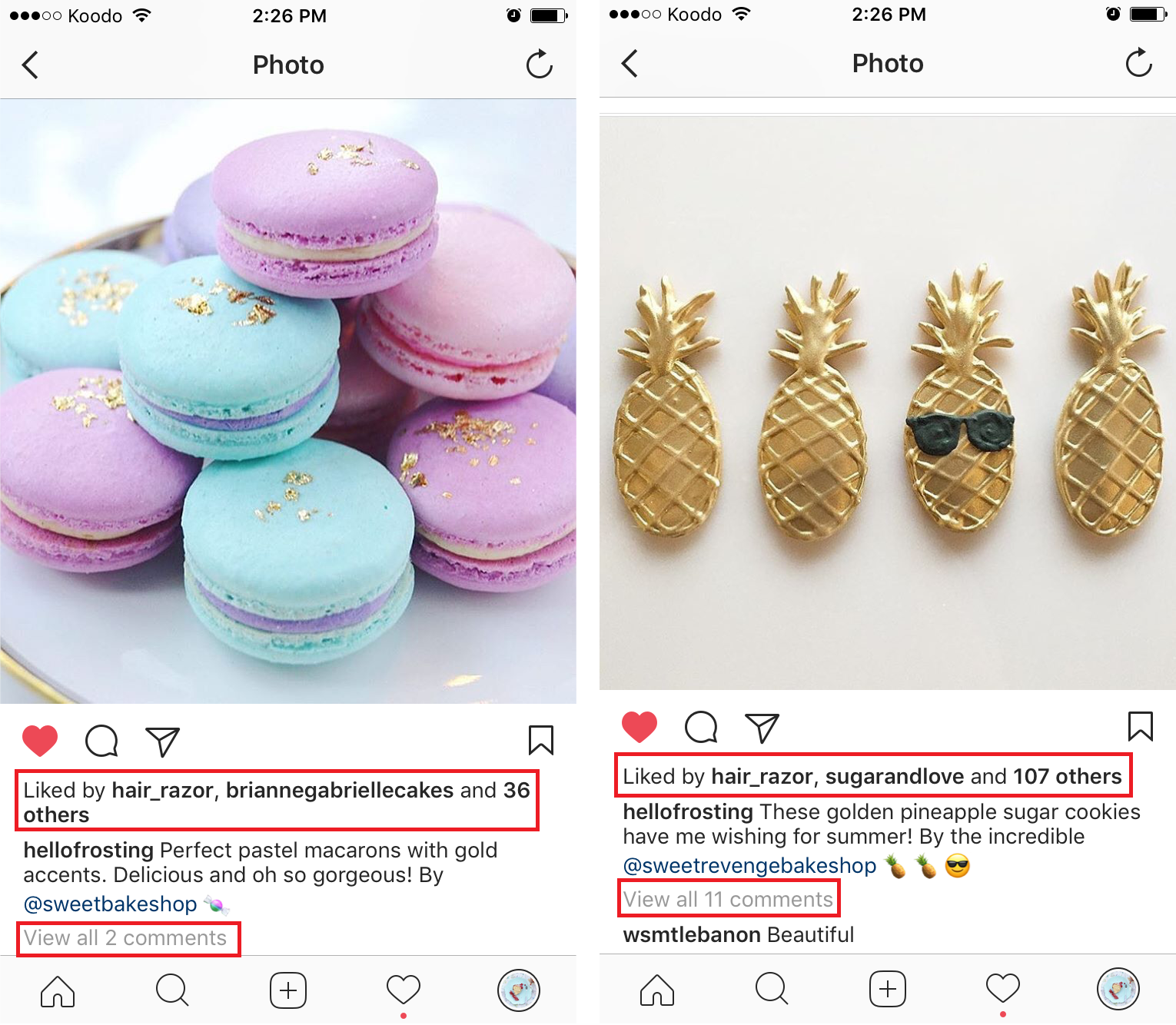 The post on the left WITHOUT hashtags only received 38 likes and 2 comments, while the post on the right WITH hashtags (they're hidden in the comments) received a whopping 109 likes and 11 comments!
That's a BIG difference, and hashtags ultimately affect how many new followers you are able to attract with each post.
I'll share with you a hashtag strategy that WORKS no matter what your niche
The process you'll learn in this course can be effectively used by anyone -- no matter what your Instagram account is all about.
So whether you post about cats, or painting, or travel, this process will help you attract your target audience, boost your engagement, and grow your followers...
It's TOTALLY possible to start seeing results in the first few days.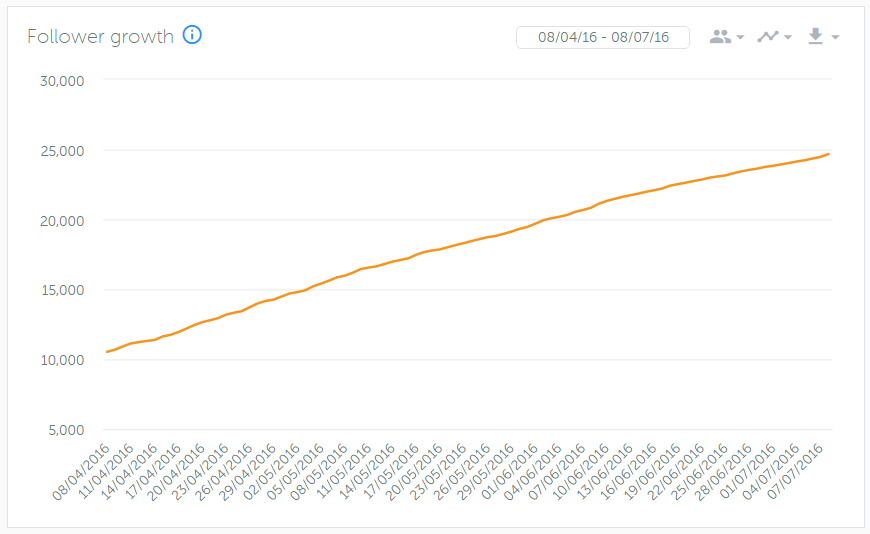 Consistent growth thanks to hashtags!
Learn my EXACT step-by-step hashtag building process
You'll use my step-by-step process to find your own BEST hashtags in under an hour. At the end of this course you'll have several hashtag sets that are ready to go next time you post to Instagram.
Introducing...
Insta-Stellar Hashtags Masterclass
---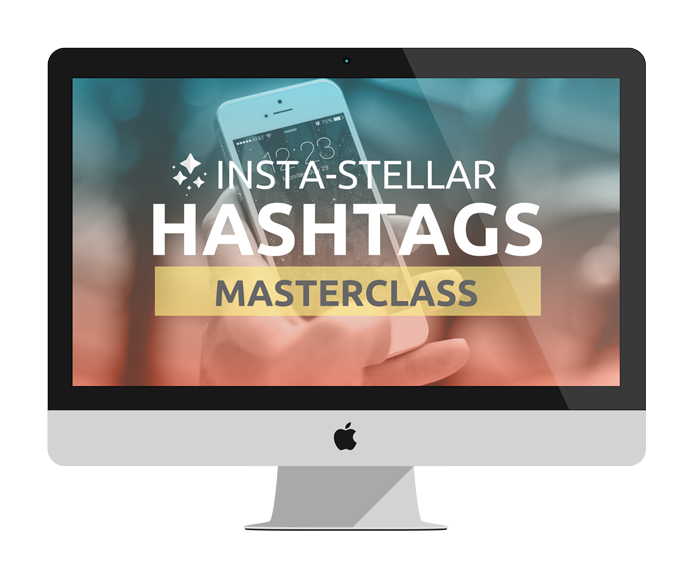 Find the PERFECT hashtags + grow your Instagram like a BOSS.
Enroll in this 40 minute masterclass & watch your Instagram growth take off — results are possible is just a few days.
In this Instagram course I'm sharing everything I've learned about finding the BEST hashtags for your specific account. I'll walk you through my easy 3-step process, and you'll create your own personalized sets of hashtags, tailored specifically to your brand or business.
Put in the time to figure it out now and your hashtags will boost your growth for MONTHS to come.
It doesn't matter if you've been Instagramming forever and you just haven't see the results you've been hoping for, or if you're a complete newbie to the Instagram game, this masterclass will help you reach your Instagram goals - faster than you thought possible.
All thanks to the power of hashtags.
What You'll Learn in this Instagram Course
Instagram Hashtags Demystified
Learn the science behind hashtags - how they work and why they're so important to any growth strategy.
Conduct In-Depth Hashtag Research
Learn how to find the absolute BEST hashtags for you and your brand, by brainstorming keywords, studying your competitors, and analyzing your target audience.
Attract Your Perfect Audience
Figure out how to use hashtags to attract your ideal followers to your account - the ones who are most likely to follow, subscribe, and buy from you.
Grow Your Instagram Followers
Learn why hashtags are a key component in growing your account - and create a steady stream of new followers that keep coming in no matter what.
Create Personalized Hashtag Sets
Narrow down your hashtags based on the two most important factors, and save them as sets that are ready to use every time you post to Instagram. HUGE time saver!
Tips and Tricks for Posting
Use your new hashtags the right way, and keep your page looking clean and professional (while growing your account). Then, track your results!
Here's What You'll Get
---
40 Minutes of Video Lessons
Walking you through the whole process, from brainstorming keywords, all the way to posting your completed hashtag sets.
For you to print and fill out. Use this workbook to walk through the 3-step process in order to find the BEST hashtags tailored specifically towards your account.
Lifetime Access to Everything in the Masterclass!
This includes access to all future updates. Instagram is CONSTANTLY changing and coming out with new updates, and it's important to stay on top of these changes. I'll update this course as necessary so you'll always be in the know about the best hashtag strategies to use.
Plus These Awesome Bonuses!
---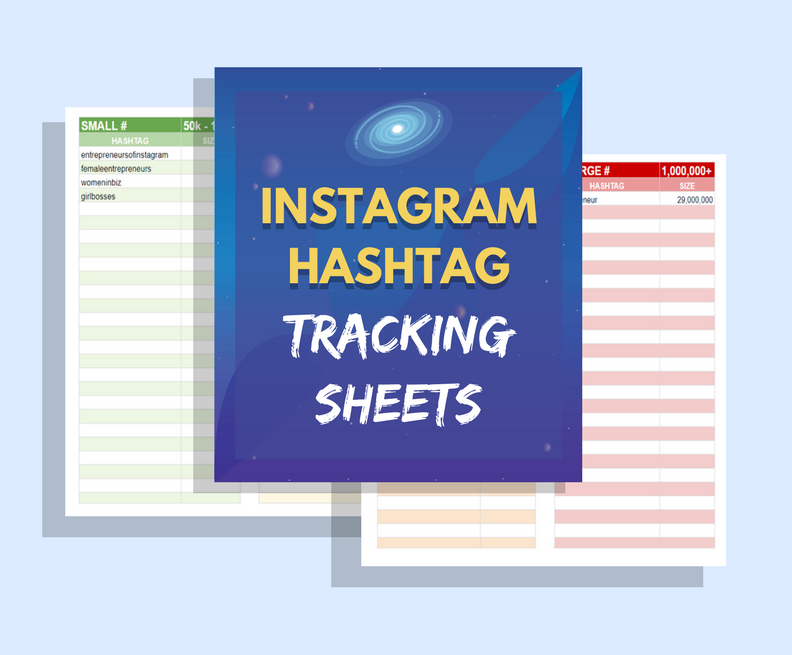 BONUS #1 - INSTAGRAM HASHTAG TRACKING SHEETS ($47 VALUE)

---
Hashtags are an integral part of any successful Instagram strategy, but they can be a pain to keep track of. Get my Instagram Hashtag Tracking Sheets so you can write down and keep track of all the best hashtags that work specifically for your account. Copy and paste hashtags from your tracking sheet every time you post to save loads of time.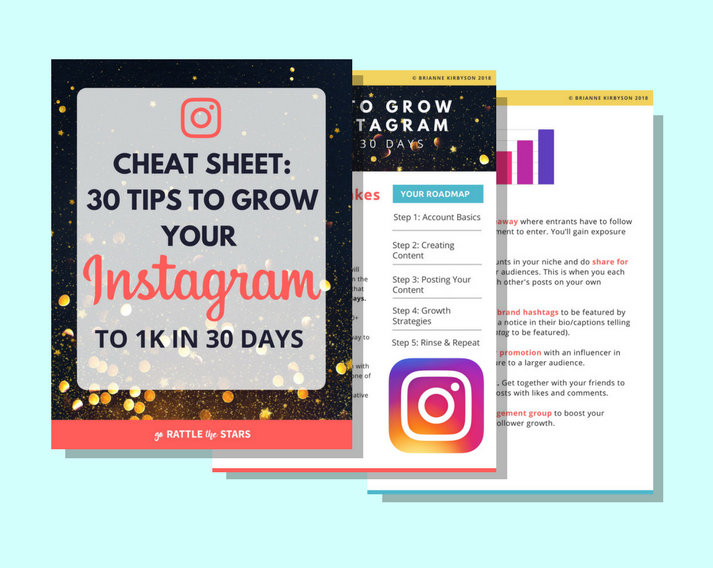 BONUS #2 - GROW YOUR INSTAGRAM TO 1K IN 30 DAYS CHEAT SHEET ($47 VALUE)
---
Hashtags are only one part of a successful Instagram growth strategy -- get my cheat sheet so you can start implementing the other most effective strategies to grow your account. Combine these tips with the hashtag strategy you learn in this masterclass for maximum results and rapid growth.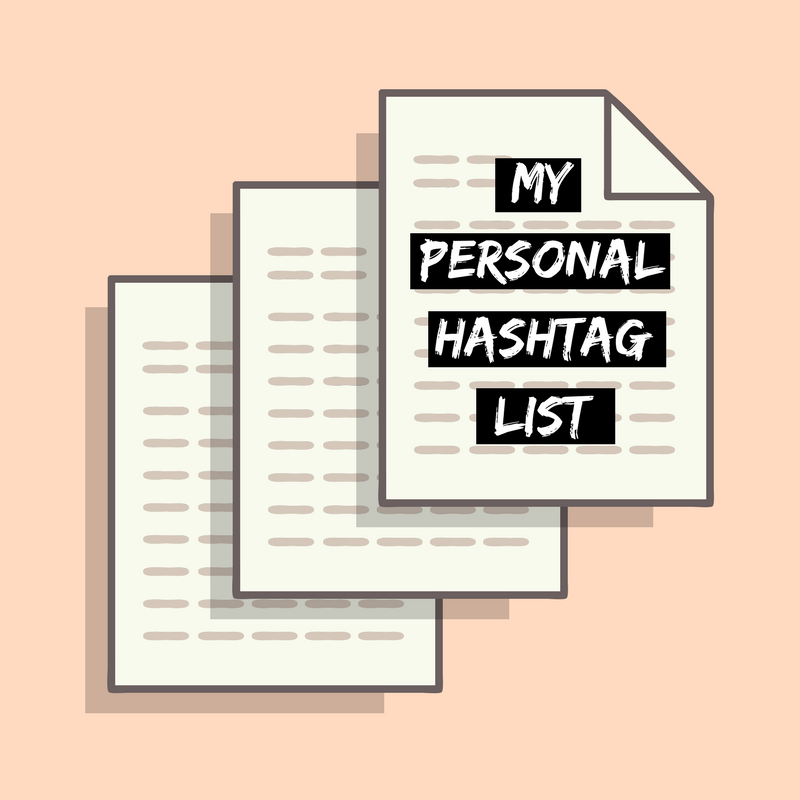 BONUS #3 - MY PERSONAL CREATIVE NICHE HASHTAG LIST ($27 value)
---
Gain access to my personal tracking sheet for creative business-related hashtags. This will give you a GREAT head start if you have a creative or artistic business, as many of the best hashtags of various sizes are already laid out for you and ready to go.

Course Curriculum
Welcome + Resources
Available in days
days after you enroll
Video Lessons
Available in days
days after you enroll
Bonus Content
Available in days
days after you enroll
Your Instructor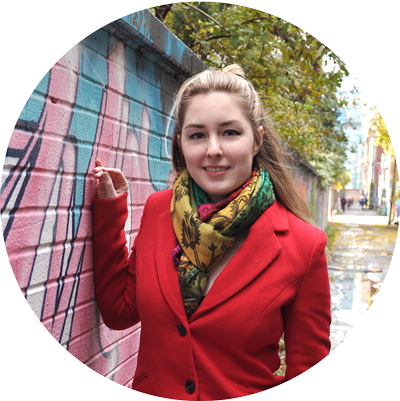 Hey there!
My name is Brie – a Canadian gal from Toronto, with a green thumb and an obsessive love of cats.
And when I'm not lost amidst the greenery that is my balcony garden, coming up with ridiculous pet names for my cat while speaking to him in a horrendously high pitched voice, or reading as many pages of a book as I can before I inevitably fall asleep after 20 minutes…
...I'm running GoRattleTheStars.com, a social media marketing blog that has helped thousands of entrepreneurs, bloggers, and influencers successfully grow their businesses by harnessing the power of Instagram.
I've also grown my two businesses from 0 to over 110,000+ Instagram followers combined in less than a year, just to prove that I could do this business thing after failing horribly to launch my art career.
With Instagram Launchpad, my goal is to help you grow your audience, gain the recognition you deserve, and increase your profits online – all by becoming a social media BOSS.
I don't believe in using "growth hacks" or super sleazy shortcut methods that involve putting in the least amount of work possible for questionable results.
I am all about foundational tried-and-true methods that will help you direct real followers to your Instagram account, so you can wow them with your talent, form meaningful relationships, and build the life you've always wanted.
Frequently Asked Questions
How is the course delivered?
The course consists of several video lessons, supplemented by a printable workbook that you'll need to fill out in order to get the most out of the course. You also get access to several extra bonuses in PDF and spreadsheet format. Support and questions are addressed via email -- you'll have direct access to me for any problems or questions you may have.
When does the course start and finish?
The course starts now and never ends! It is a completely self-paced online course - you decide when you start and when you finish.
How long will it take for me to see results?
Since this is a short course, you should be able to go through the course content and start implementing the strategies taught within a couple hours. Hashtags generally start showing their effects right away, so you should see some improvements in engagement within a few days if you've followed instructions correctly.
Can't I just find this information on the web for free?
Most of the information about Instagram I find on the internet is either outdated, incomplete, or both. Plus I know from experience that it is incredibly frustrating trying to piece together methods and strategies you found from different sources. You'll save yourself a lot of time by enrolling in this course because the method I teach is a cohesive and COMPLETE strategy. You don't have to do any piecing together of conflicting information -- everything you need to succeed with hashtags is here.
How long do I have access to the course?
How does lifetime access sound? After enrolling, you have unlimited access to this course for as long as you like - across any and all devices you own.
What's your refund policy?
We only offer refunds if you complete everything in the masterclass, put it all into action, and don't see any improvements on Instagram. If you do all this and still see no results, we are happy to provide a full refund within 14 days of purchase. We do NOT give refunds for buyers remorse, or if you simply change your mind. This is digital content, and cannot be "returned" once you've watched the videos, downloaded the PDF, etc. Please only enroll in this masterclass if you fully intend to put in the work. The strategies taught in the masterclass only work if you do.
What Are You Waiting For?
Stop procrastinating and get your hashtags working for you, instead of the other way around. Set up your hashtags the RIGHT way and boost your Instagram growth for months to come.